Archives Under "dessert" (RSS)
30 March 2009 | Ten 01, cake, chocolate, delicious, dessert, faithful readers, plated dessert, recipe | 3 Responses
As my faithful readers may guess, I hesitate to utter or type the word "bam," let alone "BAM!"  I find it appropriate here however because of two things.  Firstly, I stole this recipe from none other than the "bam-man" himself, Emeril Lagasse. Second this cheesecake hits you like so many extra handfulls of whatever it may be, BAM! Leaving the audience (you,) asking for more. At first glance, any pastry minded person would wonder at the food processor method and the addition of flour for this cheesecake.  Also, no water bath while baking?  My employer Adam mused that it was no doubt some kind of shortcut or compensation for poor technique.  The likelihood of him being correct doesn't change the silky texture and pure indulgence of this tangy chocolately treat.  The only thing did I differently was to increase the milk chocolate by 2 ounces.   I use a water bath, too.  I just have to.  I also use a milk-chocolate feuillitine crust after baking and chilling and an oreo cookie round when it hits the plate.  I make the milk chocolate crust by melting the chocolate over a double-bloier, then mixing in enough feuillitine to have a fluid but crunchy texture.  I bet you could use chopped cereal flakes and have similiar results, if you're having trouble finding the feuillitine. I hate soggy graham cracker crust.  At first I baked it in a square and cut rectangles, but soon switched to the demisphere, which due to gravity actually bakes things into truncated domes.  I glaze them in dark chocolate and pipe the cute little milk chocolate lines.  For sauce I use a blood orange caramel, which balances with he milk chocolate nicely.  When I sauce the plate, I envision the mask of Rorschach from Watchmen, because I'm a silly dreamer.
Emeril Lagasse's Milk Chocolate Cheesecake
3 pounds cream cheese, softened
2 cups sugar
6 large eggs
1 cup heavy cream
1/2 cup bleached all-purpose flour
Pinch of salt
1 teaspoon pure vanilla extract
10 ounces milk chocolate, melted
Beat the cream cheese in a food processor until smooth. Add the sugar and process. Add the eggs 1 at a time, running the processor in between each addition. Add the heavy cream, flour, salt, and vanilla and process until smooth, scraping down the sides of the bowl as needed. With the motor running, add the chocolate in a steady stream. Pour the mixture into the prepared pan. Bake (in a water bath) until the center of the cake sets, about 1 hour and 15 minutes.
Oreo Cookie
1 1/2 cups powdered sugar
8 oz soft butter
1 tsp salt
1 tblsp vanilla extract
1/2 cup cocoa powder
2 1/2 cups A.P. Flour
Cream the butter, salt and sugar well, but not to light and fluffy
Sift in the flour and cocoa powder, then mix to form a dough
Cover with plastic and chill at least one hour before rolling on a floured surface and cutting out cookies
Bake at 350 for 12 minutes
22 March 2009 | Ten 01, chocolate, creative presentation of the week, delicious, dessert, jack yoss, plated dessert | 10 Responses
In my exploration of flavor combinations, I've made up some weird desserts.  I mean, for awhile, all I made was weird desserts.  I liked things that were different, that made people think!  At Carlyle I tried to deep fry bread pudding.  It was good.  People didn't get it.  I put a doughnut on the plate with poached pears.  People didn't get it.  At ten-01, I've refined my style a little bit.  I did less weird, but still unusual.  Twists, if you will.  Well, you can sell that shit to the fucking tourists; people still didn't get it. Chef Jack taught me to write menus that sounded as good as they tasted.  Chocolate Whiskey Cake with Brown Butter Caramel and Dulche de Leche Ice Cream sounds pretty fucking good.  I have to cook for your demographic.  I have to make desserts that people don't think about, they just buy.  The average Portland diner isn't a jaded big city type; used to everything from fried mayonnaise to "weird fish."  Sure they got behind grassy sage ice cream, but they seem to want desserts well inside the comfort zone.  Vanilla Creme Brulee.  Pear fritters.  I sell more ice cream then anything else.  I've got a new cheesecake; which is going over well, but I find my plating skills have hit a plateau.  At least dessert of last year is off.  I've enjoyed some banquet dessert success as well recently.  I need some input…some inspiration.  Fuck, I need some fucking berries already!!
1 November 2008 | Ten 01, delicious, dessert, plated dessert, recipe | 5 Responses

I love deep frying.  As long as I'm creating dessert menus, there will be a fried item included.  Customers seem to love them, too.  I still have people asking me about the Olive Oil Beignets.  Not every fried dessert I've tried has been a huge success.  The funnel cakes turned out to be just OK, and the brown butter beignets straight didn't work.  I mostly base my doughnut ideas on pate choux, because I can pipe them, freeze them and fry from frozen.  This system works well because I normally have to make the batter only once a week.  A simple dipping sauce of creme anglaise or fruit coulis made it a no-brain pick up.  With the lackluster reception of the funnel cakes, I wanted to try something different.  I turned my Googles upon the humble fritter.  The simple, basic recipes I found reminded me right away of pancake batter.  Milk or water, eggs, flour, chemical leavener, flavorings.  I tried a couple of "meh" recipes before choosing the most simple.  A no frills apple fritter formula I found God knows where at God knows what wee hour of the morning through bleary search-engine eyes.  I thought this recipe was the most tweakable, and slightly tweak I did.  The original recipe called for milk as the liquid, and apples for the fruit.  I wanted to use pears, because I originally had bleu cheese in mind for the sauce.  I ended up using pear puree for half of the liquid volume (instead of all milk,) because the fruit flavor was faint at best.  I also tossed the diced pears in more pear puree, just to seal the deal.  These steaming balls of fried tree fruit batter are delicious.  Hot from the fryer they get tossed in cinnamon sugar, the smell is heady, as in it turns heads in the kitchen.  At this point, I started working on the sauce.  My first idea was a honey-roquefort creme anglaise.  Blue cheese and pears are thick as thieves, right?  A famous pearing pairing.  I bounced the idea off of Chef and he suggested I use Gorgonzola Dolce. I put together the simple custard based on David Lebovitz's ice recipe in The Perfect Scoop. Spooning the warm cream into my mouth I almost puked.  The funky foot taste filled my sinus and the too sweet eggyness turned my stomach.  I stashed it in my low boy.  Somebody was getting got with that stinky mess.  It turned out to be Perez.  I called him over once the sauce was cooled to have a taste.  The look on his face was priceless.  Slowly nodding his head and trying not to grimace, he looked like as if he was going to spit it out, but didn't want to offend me.  I burst out laughing in his face.  I love cooking.  Even the failures prove to be somehow useful. This is my second experiment with stinky cheese in a dessert, and the second not so good result.  I decided to go with a pear brandy caramel, using local a Clear Creek Distillers product.  Anyway, here's the recipes. To fry these babies, spoon the batter into a 350 F deep fryer.  When they float to the top, note how they look like The Guardian from Big Trouble in Little China. Fry until golden brown and a knife comes out almost clean.  And watch out for Lo Pan.
Pear Fitters
makes one deep 6 pan
4 eggs
2/3 cup milk
2/3 cup pear puree
4 cups flour
1 cup sugar
1/4 oz salt
1 oz baking powder
4 cups diced pears
pear puree to coat pears
1. Whisk the eggs together with the milk and the pear puree in a large bowl.
2. Sift the dry ingredients into the bowl and mix to combine with a wooden spoon.
3. Dice the pears into a seperate bowl and toss them with enough pear puree to generously coat.
4. Fold the pears into the batter and either fry at 350 F until golden brown, or refigerate up to five days.
Pear Brandy Caramel
1 lb 8 oz sugar
10 oz corn syrup
10 oz butter
3 cups heavy cream
1/2 cup Clear Creek Pear Brandy (don't sub the cheap shit)
1.  Caramelize the sugar and the corn syrup to a rich amber color.
2. Whisk in the butter, take care with the bubbling and frothing.
3. Whisk in the cream and return to a boil.
4. Remove from the heat and cool to room temperature, then whisk in the pear brandy.  Serve warm or store up to 1 month in the refigerator.
15 October 2008 | Ten 01, creative presentation of the week, delicious, dessert, faithful readers, jack yoss, plated dessert, recipe, shameless self promotion | 13 Responses
This is a variation of one of my older recipes, literally the first dessert I made at ten-01. I learned this one from Tony, of course, and I've been tweaking it ever since.  If you review the earlier version, you'll notice a few changes in the recipe below.  Firstly, the weights have changed.  Somewhere along the line, while converting it for various applications, I skewed the amounts.  The newer proportions reflect just how many times I've made this recipe, how many times I've observed it's subtleties.  Chef actually improved upon its technique by mistake while I was in Europe.  Anyway, here's whats changed and why.
This recipe contains all my favorite ingredients; butter, chocolate, eggs, sugar, and booze.  I was taught to melt the butter and chocolate over a double boiler Then whisk together the sugar and the eggs.  Then, when the chocolate was melted, everything was whisked together with the booze and baked in a water bath in ten inch cake pans.  When baked and thoroughly cooled we glazed them with a one to one ganache and sliced them in 16 portions.  Onto a marble and out to the buffet.   Simple and decadently effective.  The main trick then (and now) was knowing when to pull them from the oven.  They never really look baked, all loose and jiggly.  It's still a kind of leap of faith for me when I pull them.  I find myself touching them every five minutes until they cool and solidify.
At Carlyle this recipe started to evolve.  The original recipe, just cut in half, was giving me some great results. I realized at this point how similar this cake was to cheesecake, and I treat cheesecake like a custard. I started baking it at a  lower temperature, and turning off the oven for the last half hour of baking.  A thick, fudgey texture was my reward.  I started trying different molds, and building up creamy layers.  The best version at those times was with passionfruit, I wanted to call it Sexual Chocolate.

For my tasting at ten-01, I baked the cake in a small ring mold and served it with brown butter ice cream.  It was over the top rich and showed I wasn't afraid to knock people unconscious with chocolate.  At least that's what I kept telling myself as they ate it ("They don't hate you, they don't hate you, they don't even KNOW you, man!")  I got the job, needless to say, and the cake ended up on the first menu.  I started to bake it in frames around this time, and that marks the first change in the recipe's proportions.  Every time I pulled the 1/2 sheet cakes from the oven, the tops were just pooled with butter.  I think this happened because the cakes where to big to cook through before basically breaking.  I tried varying oven temperatures, mixing techniques, and finally ended up just reducing the amount of butter.  The cake had a slightly more crumbly texture but was still dense and fudgy.  Chef suggested I started serving the cake at room temperature. Chef knows a lot about food.  Much like cheese, the cake was way better at room temp. He actually improved upon the recipe by mistake, confusing the bread pudding technique with this one and whipped it on high speed for over 15 minutes. The cake melted in the mouth, inducing groaning.  This version of the cake sold really well. It seemed like it was around forever.  I started to get bored with it.  I replaced it with another Tony Classic and tried to forget about it.
Fast forward three or four menus.  The servers are clamoring for a rich, knock-out chocolate dessert.  The stupid Guinness brownie thing just wasn't working.  Marble Cheesecake? Yeah, kind of, but not quite.  Scouring the internet for ideas,  I came across this.  The tenth item on McCormick's 2008 Flavor Forecast was rubbed sage and rye whiskey.  Things started to click into place in my mind; the hamster running in its wheel turned the lock's tumblers to open my mind on a new idea.  I knew whiskey and chocolate worked.  Would I use whiskey in the cake or in the sauce?  I knew how to make a kick-ass mint ice cream, would it work with sage? And would it go with the rich fudginess of the cake?   As it turns out, it does.  Famously.  I remember standing in the walk-in waiting for the ice cream base to cool down enough to spin.  I had some whiskey caramel left over form the Guinness brownie.  I spooned the caramel into my mouth followed by the sage base.  Closing my eyes, nodding, I reached to the top shelf for a beer…it was time to celebrate.
"Oh wait…" I thought, "…it's only 6:30."  I started straight away making a batch of flourless chocolate cake. Scanning over the ingredients, I encountered a problem.  I've only made this recipe with alcohol.  It's always been whiskey, or Grand Mariner or Bailey's or something.  I knew this recipe really well and just knew that I had to come up something to use in the place of whiskey, 3/4 of a cup of what, dammit, air?  Suddenly it hit me.  Water.
This batch of cakes,  baked in my handy new flexipans, was one of the best I've created.  Fudgy, of course, but the main flavor was chocolate. Not booze, but chocolate.  Water made this possible.  Having worked in pastry for a few years, this really struck me.  Water, the arch-nemesis of chocolate, was helping me showcase chocolate in this recipe.  Sometimes when things seem weird at first, proper handling can produce fantastic results.  Water is now my new favorite ingredient.  Even chocolate isn't scared anymore. I  even used the two together it in the mirror glaze.  Anyway, enough of my jawing, here's the recipes for my faithful readers, and also for the readers of the Willamette Week, who will find this cake in the October 15th Restaurant Guide.
Chocolate Flourless Cake
1 pound 14 ounces chocolate (64%)
1 pound 8 ounces butter
15 ounces eggs
15 ounces sugar
3/4 cup water
1.  Pre-heat your convection oven to 200 F.
2.  Weigh the chocolate into a bowl and set aside.
3.  Weigh the butter into a sauce pot, and bring it to a boil.
4.  Weigh the eggs and butter into the bowl of a stand mixer and whip light and fluffy.
5.  Pour the boiling butter over the chocolate, give the bowl a shake and a spin and let stand two minutes.
6.  Whisk the chocolate until smooth.
7.   Fold the whipped eggs into the  melted chocolate, then fold in the water.
8.   Pour the batter into the flexipans and bake in a water bath until set, about 30 minutes.
9.  Cool properly and chill thoroughly before demolding and glazing.
Mirror Glaze
1/2 cup corn syrup
1/2 cup heavy cream
9 ounces chocolate
enough hot water to reach desired consistency
1.  Weigh the chocolate into a bowl.
2.  Measure the corn syrup and heavy cream into a sauce pot and bring to a boil.
3. Pour the boiling cream over the chocolate, give the bowl a shake and a spin and let stand two minutes.
4. Whisk the chocolate until smooth.
5.  Whisk in enough hot water to make the glaze loose and pour easily.
Assembly- Set the de-molded  cakes on a glazing rack and ladle the hot glaze over the cakes.  Chill the cakes and apply a second coat.  Serve at room temperature with Sage Ice Cream and Whiskey Caramel.
8 October 2008 | delicious, dessert, eating | 2 Responses
The branding and packaging of Valrhona chocolate just begs to be treated trashy.  The sexy black box and flashy gold wrapper simply scream: do your worst, I can take it and still be good.  Nothing is more ghetto to me in the world of pastry than s'mores.  The latest tableside "twist" or lofty "deconstruction" did not, for me, change the fact that this is a campfire treat, a gooey mess that was never intended as a plated dessert.  These days, anything goes. If a chef wants to do s'mores as a plated dessert, that's just fine.  In fact, my old chef Tony made a kick-ass "Rocky Mountain S'mores"  With homemade graham crackers, marshmallows and Bailey's ganache.  Anyway, I wanted to make s'mores with this bad-assed Valrhona, and seeing that these bars go for ten plus dollars retail, I decided to go budget as possible with the other ingredients.  Ever heard of a good Western Family product?  That's because there isn't one.  The gold standard of sub-standard in gas stations everywhere, I was surprised to find both of these gems at New Seasons.  My first couple s'mores started out great.  I trimmed up the chocolate and crackers.  I split the mallows in half and set to work.  I cranked up old blue and within 5 seconds had a flaming stinky white goo dripping off my skewer.  I turned down the heat and split a few more of the puffy little orbs.  7 seconds, flaming goo.  It was time to scale this operation down.  Old Blue sported way to many BTU's for this project.  Plus it was cold and rainy outside.  Inside, my camping stove proved to be the perfect marshmallow toaster.  I used some little corn holding prongs to get in there nice and close, slowly rotating and toasting. Once lightly toasted and warmly gooey, I transferred them onto the chocolate.  Waiting a minute or two for the chocolate to melt, I drank a beer.  Slurping down the messy-mess was funny-fun.  I couldn't help but smile as the marshmallows dripped everywhere.  The sumptuous 64% chocolate had melted just so, a delightful tiny snap as I bit down.  The crackers were meh.  I wasn't surprised.  On my second s'mores I did opt for five seconds in the microwave.  I wanted to finish off the melting of the chocolate bar, and make it as drippy as ever.  It was pretty tasty I must admit.  I may not be an authority on cookery, but I still can't see making it at it in a fancy restaurant.  It just seems contradictory.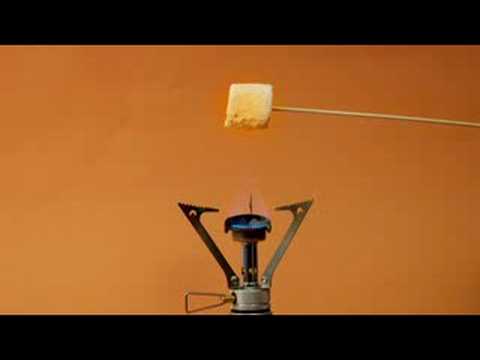 10 August 2008 | Ten 01, cake, dessert | 2 Responses

I've been mentally putting this cake together for two months. When I finally attached the last rose, and stepped back, taking it all in…I was quite pleased with myself. After 12 or so hours total prep time over 4 days, the thing looked pretty damn sharp. I could hardly remember all the baking and prepping of the fillings and the 6 a.m. rolling of the fondant. It all seemed like a dream now. At service time, I pulled off the lace so the newlyweds could get the first slice. It felt like foreplay as the thin black fabric fell away. Watching the bride and groom grin and cut into it and stuff each-others faces, I knew I had a silly smile, too. I waited in the the crowd with a sharp blade. Foreplay was almost over. And you know what that means. This was the first cake that I've made that I also got to cut and serve, and while intimidating at first was easy and fun to do so. There was a certain bent appeal to spending so much time to get this perfect, then just wheeling over and hacking it apart. In spite of the fondant, I knew also this cake tasted great. Two of the layers were Grand Marnier soaked chocolate sponge with chocolate mousse. One was lemon pound cake with lemon pastry cream, and finally a vanilla sponge with vanilla pastry cream. With sticky hands I plopped piece after piece onto to an endless line of plates being rotated in front of me. As I cut it, the servers ran pre-sliced chocolate truffle cakes from the back. 200 people were caked in about fifteen minutes. The rest of the food we put out for the party was really nice as well. From sushi to prime rib, they ate it all. It was a good day. Days like this remind me why I love this business, why I have no problem with the long-hours and sometimes less than ideal conditions. We came, we cooked, and it was good. That's F&B, baby.
30 July 2008 | Ten 01, delicious, dessert, plated dessert | 3 Responses
So I took the chocolate flour-less cake recipe that I used for Chocolate Whiskey Cake, and I piped and swirled some NY Cheesecake batter into it and I'm calling it Marble Cheesecake. I discovered this process by mistake at Carlyle, where I had the two batters ready at the same time. Funny how stuff comes together sometimes. I learned one recipe from Tony, and one from Mark, it's as if I delivered their bastard child. The creaminess of the cheesecake flirts with the fudge-like chocolate, blackberry coulis and delicate horseshoe chocolate garnish sells it. Pretty cool looking I thought, and hell of decadent. I used this cake for a recent off-site event, and it was well received. Some people even want it for their birthday. Right now Bramble-type berries are so good in Oregon, and these blackberries are no exception. Viridian farms delivers, and the berries don't disappoint. Take for example their blueberries, which are an integral part of the Lemon Blueberry Tart, below. This is an extremely simple dessert, pate sucre, lemon curd, the blueberries and coulis, a bit of chantilly. It's selling well. I didn't know how it was going to work until I had it on the plate. Simple and delicious. I'm also using their raspberries for the new Bread Pudding set, with raspberry caramel ice cream, a different but delicious frozen treat. Also new this menu is Funnel Cakes. I wanted to try these again to see if I could actually produce them, instead of just piping a few like I originally did. I can. I can also serve it with roasted banana anglaise and call it a day.
4 June 2008 | creative presentation of the week, delicious, dessert, faithful readers, plated dessert, recipe | 1 Response
People go nuts for this dessert. Eyes pop out of people's heads. It changes worlds. Even Chef cleaned his plate and he rarely does with sweets. So it's this month's Creative Presentation of the Week. Just a little New York Style Cheesecake with Balsamic Strawberries and Hazelnut Scone. As I look at the plate now, I marvel at how I put TWO leaves of mint. C'mon dude! It's a basic cheesecake recipe I learned from Mark Metzger at the Vail Cascade. I used it also at Carlyle for the cheesecake three ways. Thanks Mark!! The balsamic strawberries were Chef's idea, and after some tinkering we reproduced them. Look at those babies! All glistening and shit. The "crust" on this cheesecake comes form of scone. I always liked scones for strawberry shortcakes and this dish had strawberries so I thought, what the F. Toasted hazelnuts and sugar crust it up. It's a little weird, sure, but damn yummy. My faithful readers need these recipes. So…here:
Metzger NY Cheesecake
1 1/2 # cream cheese at room temp
6 oz sugar
Pulp of 1 vanilla bean
3 eggs
1. Preheat the oven to 250 (200 for convection.) Place the cream cheese, sugar and vanilla pulp in the bowl of a stand mixer fitted with a paddle. Beat on low speed for 5 minutes
2. Scrape the bowl thoroughly with a spatula.
3. Add the eggs, one at a time scraping thoroughly between each addition. The more careful you are here, the better your end product. Add and scrape!! Visualize that nipple in the bottom of the mixing bowl, and scrape it well!!
4. Transfer the batter to a square flexible mold.
5. Bake in a water bath for 25 minutes, then rotate the pan, and bake for another 15 minutes.
6. At this point, the cheesecake should be set on the outsides, and slightly jiggly in the middle. Open the oven door for a sec, then close it and turn the oven off. Set a timer for 45 minutes. I finish all of my custards this way, it works really well. Thanks Alton.
7. Chill the cake for at least 3 hrs before attempting to de-mold and slice. I usually flash mine in the freezer for about 25 minutes to get a clean square.
Balsamic Strawberries
3 cups balsamic vinegar
1 cup honey
granulated sugar to taste
2 vanilla beans scraped
2 pods toasted star anise
2 1/2 - 3 cups hulled local strawberries
1. Measure the balsamic and honey into a pot and whisk to combine. Whisk in the the sugar 1/2 cup at a time until you reach the desired sweetness. Remember the strawberries have a good sweetness as well.
2. Scape the vanilla pods into the pot and bring the mix to a boil.
3. Add the berries and kill the heat. Cover and steep for 25-30 minutes until berries are tender but still slightly firm. They will carry over, so…
4. Create an ice bath with water, ice and two vessels. Stop the cooking process.
5. Carefully pour the steeped berries and liquid into the ice bath. Try not to agitate the berries as they cool, they become very fragile.
Scones
I left the scone recipe at work. Eat your fucking cheesecake. Here's a good scone recipe for you. And here's a picture of some ice creams.
18 May 2008 | Ten 01, dessert, plated dessert | 1 Response

Actually, it's an one that Tony taught me, I give it a little spin with caramelized banana's and creme anglaise. It's a brownie base, peanut butter crunchy layer, and milk chocolate mousse. Peanut florentine cookie garnishes. I'm also doing Bailey's Creme Brulee with double chocolate cookies. Fucking Fantastic! A weird and interesting dessert was Melon in Lime Syrup with Crispy Phyllo and Black Pepper Ice Cream (below.) It was an adaptation of one of David Lebowitz's ideas from his book the Perfect Scoop. Damn Tasty. As we roll into summer I'm trying to get more frozen treats on the menu, y'know ice creams and such. I made a Mint Chip the other day that was probably the best ice cream I have ever made. Fresh and minty, I ate it right from the machine. Soon I will unleash it on the public. I also saw some good berries at the farmer's market this saturday. Hopefully I can get some soon to make short cakes. Hey, check out this web comic I found today: Obscene Cuisine by John McDowell. It's all about restaurants and written by an actual disgruntled chef. Funny shit.
26 March 2008 | Ten 01, delicious, dessert, plated dessert, recipe | 6 Responses
Awww…it's cute!!  Well as Tony once said, we're in the cute business.  This is the Sorbet Trio, dreamed up by Jack Yoss, and realized by me.  Chef wanted to do this dish for this past New Years Eve, and they we kept it on the menu as the light choice.  At first, before I got Gelatoo-D2, we were buying all of our sorbets (and ice creams) from Great Northwest Ice Cream in Vancouver, WA.  Now that we make our own, I use the simplest of techniques for sorbet.  Mix 2 parts fruit puree to 1 part simple syrup.  As a general rule this works for every puree I've tried.  Pictured above is pear, strawberry, and marionberry.  I adjust sweetness to taste by adding water, add a little lemon juice, and spin it.  An easy test for proper ingredient porportions in the "egg test."  I don't know why this works, but it does.  I believe it is somehow measuring brix.  Anyway, after you mix together all your ingredients, gently place a whole egg in its shell into the sorbet base. If the egg floats so that only a dime-size portion of the shell is above the liquid, he has achieved the right balance of ingredients. If it sinks lower, the mixture requires more sugar. If more of the shell is visible, the recipe needs more water.  Like I said, I'm not sure of the science here, but I'm okay with that.  So you've got your sorbet, how about those adorable little cones?  Those are made from a simple tuile cookie recipe that I stole years ago from Charlie Trotter's Desserts.  The batter is spread into a flat cone shape, sprinkled with chopped hazelnuts, baked, then molded while still warm in a pastry tip.  In an airtight container, they last forever.  I rotate the flavors of "broth" that the sorbet's sit in, it's basically a sweetened fruit puree and a complimentary wine that is brought to a simmer and then chilled.  This week it's Raspberry-Rose.  I use little stray pieces of pate fruit (gelee) to garnish the soup.  Here's some recipes:
Basic Sorbet Base
2 cups fruit puree
1 cup water
1 cup sugar
juice of half a lemon
1.  Combine the sugar and water in a saucepot and bring to a boil.  Chill completely.
2.  Mix the 2 cups puree with 1 cup of the simple syrup.  Add the lemon juice.  Taste it.  Is it too sweet? Add water.
3.  Perform the egg test as described above…go ahead…it works.
Tuile Cookie Batter
6 tblsp (3 oz) butter
pulp from 1 vanilla bean
3 egg whites
1/2 cup plus 1 tblsp sugar
1/2 cup plus 1 tblsp a.p. flour
for chocolate use:
1/4 cup plus 1 tblsp a.p. flour
1/4 cup cocoa
1. Melt butter with vanilla pulp and cool to room temp
2. Whip egg whites and sugar to soft peaks
3. Sift in flour and mix to combine
4. Store or spread thin and bake @ 350 for 5-7 minutes